The Way You Do One Thing Is The Way You Do All Things
Posted by Alex Bracke on Friday, March 12, 2021 at 3:10 PM
By Alex Bracke / March 12, 2021
Comment
This advice was given to me by a business coach several years ago. Recently, as I have been on something of a personal health journey in my quest to lose 138 lbs (not a typo!), I have had to reflect on my coach's statement.
I am not going to bullshit you – I am proud as hell of the progress I have made. I have surpassed my original 138 pound goal and I am now targeting a total of 158 pounds. But the flip side I have been forced to acknowledge is, how the hell did I get to the point where I needed to lose over 138 pounds?!
Rarely being satisfied with achievements
In asking myself that question, I have had to do some soul searching. What I recognized is a pattern in my own life of rarely being satisfied with achievements.
I got my first paying job as a paperboy when I was just 8 years old. I made a nickel for every paper I delivered and I frankly hated every minute of it!
Around this same age, I recall an instance where I was playing a board game with my younger brother, who could not have been more than 5 or 6 years old at the time. I remember vividly being so competitive that my Mom stepped in and asked me why I could not simply let him win once. And I remember being so confused … as though my Mom had just asked me why I did not want to eat a bucket of worms or something … because the concept of NOT winning and INTENDING on that outcome was one of the most ridiculous things I had ever heard!
By age 11, I owned my first business mowing lawns in the neighborhood. I had seven weekly clients at $20 each, and four others that occasionally asked for my help. I never told my parents at the time, and to this day I have never told them (until now, I suppose – sorry, Mom & Dad!), but I used a portion of that money to pay for lunches at school as I knew money was tight for my folks and I was too proud to carry one of the Free/Reduced Lunch cards.
As soon as I turned 16, I got a job at a pizza place 15 minutes away from home. I worked there 35-40 hours per week, in addition to school. I picked up extra hours every chance I got.
I left high school after my junior year, never returned to that building for another class, and instead spent my Senior year of high school at a community college.
After officially graduating high school, I attended a large university. I found my way into political campaigns. And before I realized it, I was suddenly working 40 hours per week (on top of my studies) leading a statewide political campaign and organizing campaign events in neighboring states. I was 19 years old.
At the same time, while most of my friends were taking 12 credit hours each semester, I was insistent on taking as many as 24 at once … because that was a challenge! I graduated with honors with a triple major and a minor in just 3.5 years.
I remember graduating college and thinking to myself that I needed a break. So I asked my would-be employer to give me five days in between graduation before I started my career in law enforcement! (To be fair, they encouraged me to take more, but I declined)
While at that job, I married my wife at age 22. She wanted to pursue her Master's degree, so I took a second job as a Teamster union laborer making $10/hour where I worked nights, weekends and every holiday. For over three years, I worked 365 days per year, including Christmas, Thanksgiving, and every other major holiday.
We ended up moving to the Washington DC area during the Great Recession of 2008. The only job I could find was 45 minutes away at a Best Buy in Laurel, Maryland, as an hourly employee. I worked my ass off and in less than a year there, I was promoted several times and eventually was offered the No. 2 position in the store, behind only the store's General Manager. I politely declined the offer.
In my return to law enforcement, unsurprisingly, I wanted to be the best. During my training academy, I received top marks academically, in firearm proficiency and in emergency vehicle operation. I was no stranger to finishing the physical training at the police academy, coming home, and running another six miles … just because I was not satisfied with my physical training that day.
In one of my first shifts with my Field Training Officer, he asked me, "Well Rookie … what kind of cop do you wanna be?" I told him, "I'm going to be a DUI and Dope hound," (meaning a cop that focused on finding drunk drivers and drugs on the street). He told me, "Well, they give awards for that sort of thing to the cop that makes the most DUI arrests each year." Smelling the competition, I replied, "Oh, really…?!" He went on to tell me that most years, the winner of the award made somewhere in the realm of 20 DUI arrests that year. "Just twenty?" I asked, surprised. "How many did you plan to get," he quipped back. I replied, "I don't know … 40 or 50." He laughed at me. I went on to win that award every single year I was there, never made less than 45 DUI arrests in a single year, maintained over a 99% conviction rate, and regularly had triple the number of arrests as the next closest officer to me.
After a short stint with a supervisor who, at best, would be accurately labeled a cop of questionable integrity, I realized that in spite of my successes I did not control my destiny there. I was punished for defying a direct order to falsify my official reports to cover up for him and for failing to abide by his order to "stop taking so many DUI drivers to jail" (his exact words). It was at that time I began searching for a new career.
After some research, I got my real estate license. My plan was to transition to that new career over the course of several years, but my dissatisfaction with not achieving success ASAP kicked in again. I went to work as a cop from 5 PM till 5 AM; I would come home, shower so as to trick my mind into thinking I was in my usual wake-up routine after a night's sleep; then I was in my real estate office by 8 AM until noon or 1 PM, after which time I would go home to sleep for two hours before getting up to do it all over again. I lasted on that schedule for about four months until I could quite literally feel my body beginning to shut down at times from exhaustion, living on absurd amounts of caffeine. I turned in my two-weeks notice on January 1, 2014; to this day, that was one of the hardest decisions I've ever had to make, to willingly leave the profession I had dreamed of since I was a young boy.
Working exclusively in real estate, I felt an enormous sense of opportunity despite the 92% failure rate of new real estate agents. I began sprinting to learn as much as I could, as fast as I could. In my first year, I sold nearly 7 times the number of homes as my average colleague. By year two, I was named to the top 1% of the industry nationwide. And before I wrapped up my third year, I had cumulatively earned my first million dollars in the real estate business.
I became a student of business, sales, marketing, branding and team building. For the first time in my life, I found an avenue for seemingly limitless success where there existed an exponential relationship between hard work and income. And I became obsessed, totally consumed by learning how to win against endless new challenges.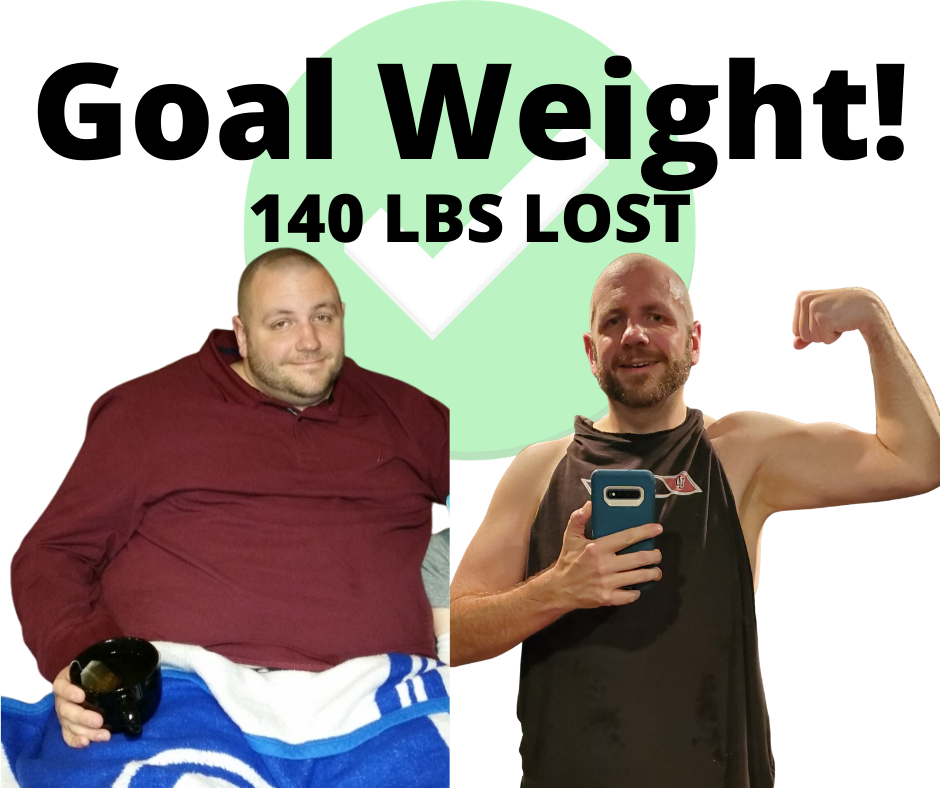 My Health Journey Was Not An Overnight Success
The more engrossed I became, the less I paid attention to my health. In four short years, I had piled on over 100 pounds because just like in other aspects of my life, I did not eat like a normal individual. I ate the same way I worked – to an extreme. There was not a slice or two of pizza … it was an entire 14" pizza I would consume. It was not a beer or two … it was eight. It was not a cookie or two at the holidays … it was a dozen.
Not until my young son began telling me that he aspired to be like Daddy, which he defined as "having a big belly" that I recognized the damage I was causing. To my son, I was a man whose worst habits were worthy of emulation. And in that moment, I knew change was mandatory for me to save him from a lifetime of self-inflicted health problems.
The health journey was not an overnight success. I hired a trainer and hold two distinguished records with him: I am simultaneously his record holder for the most weight lost in my first month (32 lbs) and also the most weight gained in a single day (8 lbs … thank you New Years Eve). But through this I have come to recognize the pattern that I have repeated over and over in my life and I am beginning to harness it for good: I am one of the most competitive people I know and I will go to lengths most folks would not dream of to win fair and square – that drive knows almost no limits. But the slope is slippery for me and it is a daily battle to stay on the path of being the guy who works harder on his health and business than anyone he knows rather than the guy who eats more than anyone he knows.
My trainer tells me my cardio is off the charts compared to his other clients. I reminded him that if you half-ass your workouts, then you half-ass your family life, you half-ass your business and you half-ass your health.
The way you do one thing is the way you do all things.