The One Question Home Sellers Must Ask
Posted by Alex Bracke on Thursday, February 23, 2023 at 10:14:45 AM
By Alex Bracke / February 23, 2023
Comment
There is really only one question that's going to determine whether you are sitting in front of a real estate agent who is a whale in the game of real estate marketing, or whether they're a minnow ... somebody new to the game, so to speak.
The problem is that real estate agents, by and large, still market homes the same way they did 40 or 50 years ago. Their strategy is basically as follows:
1) They put a sign in your front yard,
2) they take pretty pictures (maybe a video, if you're lucky),
3) they put those pictures in the Multiple Listing Service (MLS), and
4) then the one thing that has changed from 50 years ago is - without them lifting a finger - the listings that they put into the MLS port out automatically to all the third party sites like Zillow, Realtor.com, etc.
So that's basically their marketing plan in a nutshell, right? Pretty pictures, sign in the yard, put it in the MLS, let the MLS do all the work, and then they sit back, cross their fingers and hope for the best. Right or right?!
The glaring problem with that strategy is it's inherently passive: You're waiting for buyers to find you. And while that may have worked in decades past, the way in which home buyers shop for homes has changed RADICALLY.
In transient areas like Northern Virginia where home buyers not from this area can comprise 60%+ of your opportunities, think about how an out-of-town home buyer shops for homes. The way that they search for homes - the property search websites all work like this - is they look for homes for sale in the name of the town they DO know (usually where their job is located) because they don't always know the lay of the land.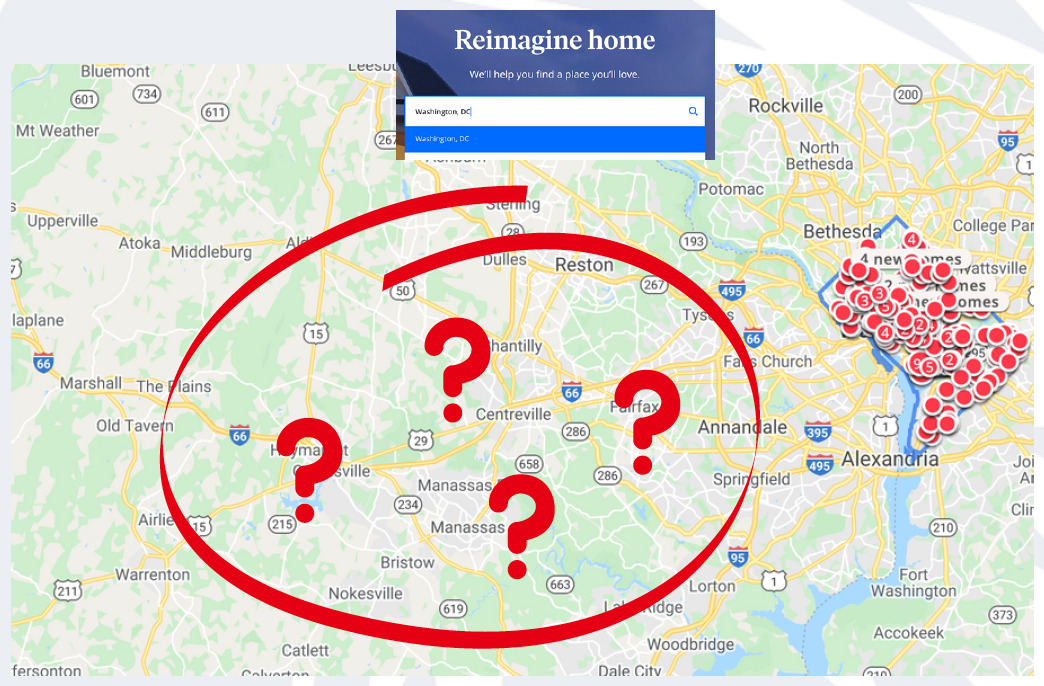 They just know their job is going to be in Washington DC, or it's going be in Tysons, or wherever. So they begin their home search there. But when they search for homes for sale in Washington DC, guess what doesn't show up? Everything that's not Washington DC. So unless a strategy exists to proactively place your home in front of the eyeballs of likely buyers before they ever realize they may be interested in your neighborhood ... you're missing out on 60%+ of the home buyers.
If you live in any of the outlying communities - you know them: Aldie, Leesburg, Winchester, Middleburg, Burke, Herndon - and your agent's strategy is to wait for buyers to find you, you've already lost the game.
Particularly if your goal is to sell your home for the highest possible price. Because what is it that drives prices up? It's demand! And if you're leaving 60% of the buying public out of the equation, your price is going to suffer.
And so, the one question you should be asking to determine whether you're speaking with somebody who is a true baller in the game of real estate marketing or are you dealing with someone still trying to figure it out at your expense ... the question you should be asking is this:
"Excluding the MLS and its portal sites, like Zillow, Realtor.com, etc., tell me exactly how you get my property marketed to the masses."
If their response includes newspaper ads (the masses don't read paper newspapers anymore), postcards to the neighborhood (the neighbors aren't going to buy your house, right?), they're the wrong person for the job. If there is no immediate answer for how they get tens of thousands of eyeballs looking at your home WITHOUT the use of the old, tired, passive marketing ... they're the wrong person to be selling one of your most valuable assets.
At the Valor Group, I have been working on this exact strategy for the overwhelming majority of my career. We figured out how the Fortune 500 companies market their products (hint: it doesn't involve an MLS, Zillow or a sign in the front yard!) and we have reverse engineered that for real estate.
I would love to show you what truly amazing marketing looks like in today's world. Even if we're just a second opinion, you deserve to know what all your options look like so that you can make an informed decision about one of your highest priced investments: your home.